LEVIN Commercial Real Estate Secures 14,360 SF Space in Atlantic City for Enroute Computer Solutions' New Corporate Headquarters
(10/18/2016) – Lee Jerome, Senior Associate at Levin Commercial Real Estate is proud to announce the securing of a long-term lease of 14,360 square feet for Enroute Computer Solutions, Inc. (ECS) in the Citi-Center Building in Atlantic City.
ECS is a provider of a full range of engineering, software and systems services supporting the Air Traffic Control industry. ECS has been supporting the Federal Aviation Administration (FAA) and its corporate partners at the William J Hughes Technical Center and throughout the country since 1994. The company's new 14,360 square foot facility will be located on the 8th floor of 1300 Atlantic Avenue and house new offices, as well as, a state of the art computer lab and conference room by the end of the year.
ECS' decision to relocate to Atlantic City was supported by a Grow New Jersey (Grow NJ) award approved by the Economic Development Authority (EDA) in October. "The end of our lease in EHT presented us with an opportunity to explore other options to accommodate our continued growth," said Anthony Curatolo, ECS Founder and CEO. "The Grow NJ Program helped make a move to Atlantic City practical. We are excited to see Trenton supporting the development of South Jersey and look forward to our part in the next chapter of Atlantic City."
The EDA approved the Grow NJ funding this month. ECS will receive as much as $9.3 million in state tax credits over the next decade. The grant is for up to $931,500 a year over 10 years and includes conditions that the company meets certain criteria over time, including capital investments and employment numbers.

Be the first to view our newest listings and featured properties!
Connect with us on Facebook, Twitter & LinkedIn!
Follow us on Google+:
Reopening Showboat as Hotel 'Good News' for AC, Gaming Experts Say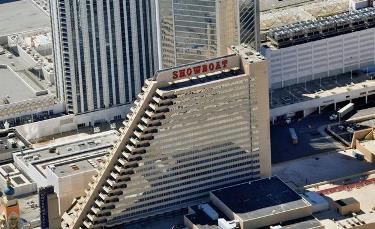 By: Kenneth Hilario, Reporter
Philadelphia Business Journal
Jun 6, 2016, 1:15pm EDT
"Philadelphia developer Bart Blatstein will be reopening the former Showboat casino in Atlantic City as an non-casino hotel, a move experts said is a good move for the troubled Shore town, which has seen a decrease in hotel inventory since 2014.

Blatstein's Tower Investments last Friday announced it would reopen Showboat in July as an 852-room hotel, representing "the largest non-casino hotel in New Jersey" - one that would create "hundreds of new jobs."

The developer acquired Showboat  from Stockton University in October for $22 million.

"Tourists have been pining to visit this essential resort," Blatstein said in a statement. "Tower's making it happen."

Gaming experts say the decision is a good one for Atlantic City, particularly since it lost a significant amount of its hotel-room inventory when four casinos closed in 2014..."
Read entire article here:
Thousands turn out for job fair for re-opening Showboat
By - Associated Press
Tuesday, June 7, 2016

"ATLANTIC CITY, N.J. (AP) - Thousands of people have turned out for a job fair to fill jobs at a former Atlantic City casino reopening next month as a non-gambling hotel.

The line outside the Showboat casino wrapped around the block on Tuesday for the job fair. Those waiting for interviews included people who had worked at the casino before it was closed in August 2014.

Philadelphia developer Bart Blatstein says 852 of the complex's 1,300 rooms will be open to the public in July. The hotel will still be called the Showboat.
It was the second of four Atlantic City casinos to close in 2014. The Showboat was shuttered to reduce competition for Caesars Entertainment's three remaining casinos in Atlantic City.
Former Revel Gets Closer to Re-Opening on Atlantic City Boardwalk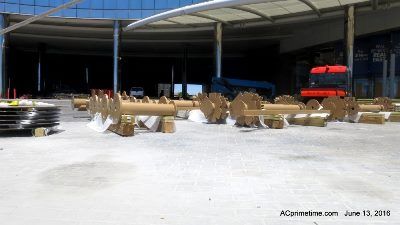 June 13, 2016
"Amid sneers, various roadblocks and public skepticism, Glenn Straub is laser focused on the resurrection of his former Revel Casino draws closer. Will Wed. June 15 be the opening date? Who cares. Just as long as it opens asap.

See pictures below: Plenty of activity can see seen on the Revel Atlantic City property.

Tractor trailers, heavy construction equipment, and a growing cadre of manpower can be seen from the Boardwalk side of this glass enclosed behemoth overlooking the Atlantic City beach front & inlet. The 'Ropes Course' equipment looks like it has been delivered in full. The steel and wood components are laid out within view, just over the wall separating the property from the Boardwalk.

Getting the former REVEL property in Atlantic City up and running has not been easy for the Florida developer.

Glenn Straub purchased the 2 year old, bankrupt structure and land for just $83 million in cash. Revel cost just over $2 billion to build. That's over a 90% discount from the building price. Did this make some jealous?
Some suggest that Straub didn't adhere to old school 'Atlantic City' procedures for operating a business in town. "When you pay in cash, middle men are kept to a minimum, that ticks some people off" says those familiar with situations like this.

Straub battled for 10 months in court to gain control of this barely broken-in resort.

While others tried to grab this premium property through various financial deals, Straub "was the only one to put his money where his mouth is" said John Cunningham, a lawyer for Revel.

Straub plans to spend as much as $800 million in Atlantic City, and he has the cash and tenacity to do it."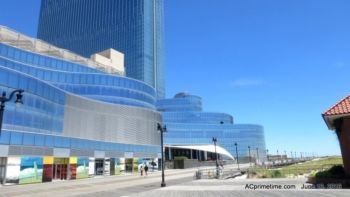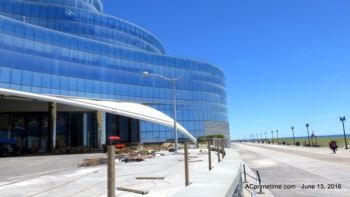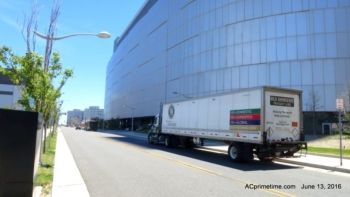 <<

Start

<

Prev

1

2 3 4 5 Next > End >>


Page 1 of 5